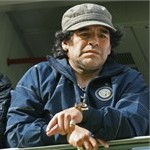 Argentinian legend Diego Maradona is likely to be named coach of the national side after a Tuesday meeting with Argentinian Football Association (AFA) president Julio Grondona. 1986 FIFA World Cup Mexico™ winning coach Carlos Bilardo delivered a statement after he came out of the same meeting.
"I think Diego will be the next coach of the national team," said Bilardo, who will likely be named director of football for the side.
The 48-year-old Maradona - who almost singlehandedly led Argentina to the 1986 trophy - won crucial support last week in his bid to become the next Argentina coach when the man charged with finding Alfio Basile's successor threw his weight behind the former
Albiceleste
skipper.
"I'd like Maradona to be the next coach," said Noray Nakis, the president of the AFA's selection commission.
Basile resigned a fortnight ago after a South Africa 2010 qualifying defeat to Chile which left them in third place after ten matches, seven points adrift of leaders Paraguay.
Maradona faces competition for the job from Carlos Bianchi, the former coach of Boca Juniors, whom he led to four national league titles, San Lorenzo coach Miguel Angel Russo and Sergio Batista who took the U-23 squad to Olympic gold in Beijing in August.