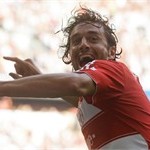 Two years after leaving the
Viola
for Bayern Munich, Luca Toni takes on his beloved Fiorentina on Tuesday evening in the UEFA Champions League.
Luca Toni is not your typical Italian striker. Lacking the technical gifts of Roberto Baggio and the cunning of Filippo Inzaghi, the powerfully built centre-forward is a selfless team man who has had to work hard to reach the top. After enduring seven largely fruitless seasons with six different clubs, the unassuming Toni finally broke through with Palermo in Serie B. It was with Fiorentina that he made his name, however, finding the back of the net 31 times in the Italian top flight in 2005/06, the first striker to break the 30-goal barrier in Italy since 1959, a feat beyond the likes of
Viola
legends Kurt Hamrin and Gabriel Batistuta.
After helping Italy conquer the world in 2006, he enjoyed an excellent first season in the colours of Bayern Munich, notching 24 goals in 31 matches to catapult the Bavarians back into the UEFA Champions League. And as fate would have it, the draw for the competition pitched the struggling German giants against Fiorentina in Group F, giving Toni the chance to return to his old stamping ground in a fortnight's time. First up, though, comes tonight's meeting in Munich.
Toni and Ribery in tandem
Although he has settled in perfectly in Munich, where he has formed a formidable strike partnership with French international Franck Ribery, Toni admits to longing for his adopted hometown of Florence. "I'll always have the city in my heart," he acknowledges. "I miss the city centre, especially the historic quarter of San Frediano, which lives and breathes art and music, and my favourite restaurant was right outside my house."
"I want to return to Italy one day to try and reach the 100-goal mark in Serie A, and the first person I will be calling is the club president, Andrea della Vall, who's a good friend of mine," says the Italian goal-getter.
Toni is not pining for a return to the Tuscan capital just yet, however. "It's still too soon to talk about the future. Fiorentina are still special to me but I have a contract with Bayern that I intend to honour," adds Toni, the third Italian striker to become the leading scorer in a foreign championship after Marco Negri and Christian Vieri, both of whom top-scored in Scotland and Spain in 1997/98 with Glasgow Rangers and Atletico Madrid respectively.
While the former European Golden Shoe winner still has the
Viola
close to heart, he does not regret his switch to the Bundesliga for a minute, even though he found it hard to settle at first.
"The language problems made it hard for me to make myself understood," he explains. "There wasn't any difficulty during games but the dressing room wasn't the same as it was in Florence. My jokes fell flat and only one or two players would get them." In time, though, the totemic Toni formed a firm friendship with Ribery, his chief supplier out on the pitch. The French ace arrived at Bayern at the same time and the Italian rates him "the best player I've ever had on my side".
Hoping for a warm reception
Toni is staying cool, calm and collected ahead of Tuesday evening's reunion with his old club. "Obviously it's going to be a little special but, just like Bayern, I need to find my form again," comments the tall striker, who has netted just three times in nine outings this season. "We have to get our confidence back and I need to get among the goals once more. Tonight would be a good night to start because I've never scored in the Champions League."
His form for Italy has been even more worrying, having failed to find the back of the net in 2008 in eight matches. Putting further pressure on the big hitman is the free-scoring Alberto Gilardino, who has replaced him as Fiorentina's goalscoring idol.
"We are different types of players," explains Toni. "Gilardino scores from some incredible positions. We've played together in some very important matches such as the World Cup semi-final against Germany, and we had a really good understanding. It will be interesting to meet up with him again."
A league championship winner in his first season with Bayern, Toni cracked four goals in a UEFA Cup tie against Aris Salonika last term and is not worried about a negative reaction from the
tifosi
should he score against his former employers.
"If I do manage to score my first Champions League goal, then naturally I'll celebrate. I don't think anybody should interpret it as a lack of respect. In any case, I won't be going over the top. The ideal thing would be for the fans to applaud me just as a way of showing their recognition. As for the match itself, it's just an ordinary game between two rivals."